Events
*FULL*Exclusive Guided Tour of Historical Photos of China's Qing Dynasty Taken by John Thomson
by HKUAA Green and Culture Group
HKUAA GREEN AND CULTURE GROUP
Exclusive Guided Tour of Historical Photos of China's Qing Dynasty Taken by John Thomson
Highlights from Through the Lens of John Thomson: Hong Kong and Coastal China, 1868-1872
| | |
| --- | --- |
| Date | Dec 1, 2013 (Sun) |
| Time | 2:30 p.m. - 3:30 p.m. (Viewing Time ends at 7:00 p.m.) |
| Venue | Hong Kong Maritime Museum, Central Ferry Pier No. 8 |
| Topic | Through the Lens of John Thomson: Hong Kong and Coastal China, 1868-1872 |
| Speaker | Ms. Betty Yao MBE, Exhibition Organiser and Director of Credential Arts Management |
| Language | Cantonese |
| Fee | HK$ 68 |
| | |

Summary:
Hong Kong University Alumni Association (HKUAA) is honoured to invite Ms. Betty Yao MBE, Director of Credential Arts Management, to give us an exclusive guided tour to appreciate valuable photos taken in China 1868-1872 by the famous Scottish photographer, John Thomson (1837-1921).

The images included in this guided tour were taken by John during his extensive travels in China between 1868 and 1872. The most special thing of his works is to show the human aspects of life in China through his extensive record of everyday street scenes, which is rarely captured by other photographers of that era. During the guided tour, Betty will guide us to appreciate the remarkable works of art and illustrate the precious historical value of the photos in detail.

After the guided tour, you are welcome to stay behind to appreciate exciting and innovative attraction includes semi-permanent and special exhibitions, dynamic displays, educational events and a Museum Shop to have a deeper understanding of Hong Kong as an international shipping centre until 7:00 p.m.


Welcome to bring your family and friends to join.

Some of the photos below are included in the exhibition: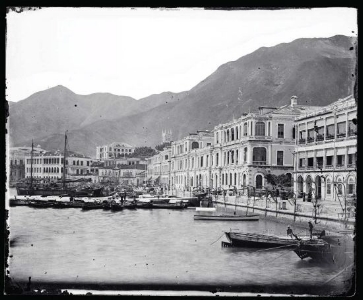 *The above pictures and information are provided by HKMM.
**TIPS**
ALL of our past events were FULLY BOOKED in advance. Please make your reservation RIGHT NOW!!!
Enquiries: Please email to greenandculture@hkuaa.org.hk (Attn: Ms. May Wong / Mr. Brian Hui) or call Ms. May Wong, HKUAA Administration, at +852 3421-1218 .


*RESERVATION*
Please click the link below for online reservation.
https://apps.hkuaa.org.hk/WebForm2/gcg201312JohnThomsonVisit.htm

Your reservation will be responded within 7 working days.

Always cannot catch up with the registration because it is full quickly? Let's join the Facebook Group of HKUAA Green and Culture Group to get our most updated information:
https://www.facebook.com/groups/greenandculture

Terms and Notes
All HKU Alumni, HKU Students and their personal friends are welcome to join this event. You can make one lump sum payment if you enroll with your friend(s). Please advise the name(s), email and mobile phone number.

Please note that payment is non-refundable. We will charge you only if has place(s) for you. However, you will NOT be charged when the event is fill or/and no place(s) for you. We will advise whether you get place(s) in due course.

You may visit our website before you enroll as we will update the event information frequently. Please note that we will not be responsible for any delay in the information.
During the event, please follow all rules and instructions strictly made by HKUAA or the service provider. Please act responsibly and HKUAA will not be liable for any damage, injury or any serious consequences that may be caused.
HKUAA reserves all the rights to make final decision on all related issues.
*********************************************************************
If you have not yet registered as a HKUAA Member, please do so at our website, FREE membership for all HKU alumni and students.

(*Note: All HKU Alumni are eligible to join, but you NEED to fill in an online application form and submit it for approval by HKUAA. Membership is NOT granted automatically upon graduation.)