News
***FULL***
25 Jul 2012
Wednesday Bar Talk
Wednesday Bar Talk
Applying Psychology & Anthropology in Project Management
Drink, listen and talk at the HKUAA BAR!!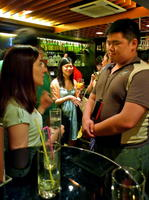 Date

July 25th, 2012 (Wednesday)

Time

> 8:00 p.m. to 8:30 p.m. – Reception

> 8:30 p.m. to 9:30 p.m. – Function underway

> After 9:30 p.m. – participants are welcome to stay behind

Highlights

> Pick a free drink and relax in the HKUAA Bar

> Listen to our invited guest and interact with him

> Share your thoughts and learn from other alumni

> Socialize and network with HKU friends

Topics & Desc

Applying Psychology & Anthropology in Project Management

Psychology is everywhere. Project Management is not an uncommon term as well. However, have you ever thought of the miraculous marriage of psychology and project management? Join Dr. Mike Leung and other alumni at this 1-hour casual and interactive session to explore the chemistry of these two skills and their practical application.

Venue

HKUAA Clubhouse

Price

Jul 15 or before: HK$50 per person, HK$40 in a pair

Jul 22 or before : HK$60 per person, HK$50 in a pair

Jul 23 or after: HK$90 per person, HK$80 in a pair

Language

Cantonese

Reservation

FULL. Thanks for your support.
Note
Seats are limited and first-come-first-serve.

No walk-in if event is full

Each participants can select one drink from the HKUAA Bar for FREE
"Like" our Facebook Group to receive our latest update
http://www.facebook.com/hkuaatog
Our invited guest - Dr. Mike Leung
Dr. Mike Leung is the Managing Director of an Interactive Agency and e-Business Consulting firm in Hong Kong. He is leading the marketing, creative, technology, project management, and consulting teams in designing and developing cutting-edge online advertising and e-business solutions for organizations in Asia. Mike has over 20 years' experience in the information technology industry in Hong Kong, Canada, and the USA. His academic background includes Computer Sciences, Management, Education, Psychology, and Anthropology.

He is a Project Management Professional (PMP) and Certified Management Consultant (CMC). At the same time, Mike is a visiting lecturer and subject leader at various universities in H.K. leading master's degree programs, and a trainer in various training institutes in Asia.
** Organizer **
HKUAA Technology Group
Terms and Notes
All HKU Alumni, HKU Students and their personal friends are welcome to join this event. You can make one lump sum payment if you enroll with your friend(s). Please advise the name(s), email and mobile phone number.
Please note that payment is non-refundable. We will charge you only if has place(s) for you. However, you will NOT be charged when the event is full or/and no place(s) for you. We will advise whether you get place(s) in due course.
You may visit our website before you enroll as we will update the event information frequently. Please note that we will not be responsible for any delay in the information.
During the event, please follow all rules and instructions strictly made by HKUAA or the service provider. Please act responsibly and HKUAA will not be liable for any damage, injury or any serious consequences that may be caused.
HKUAA reserves all the rights to make final decision on all related issues.
*********************************************************************
If you have not yet registered as a HKUAA Member, please do so at our website, FREE membership for all HKU alumni and students.
(*Note: All HKU Alumni are eligible to join, but you NEED to fill in an online application form and submit it for approval by HKUAA. Membership is NOT granted automatically upon graduation.)
*********************************************************************