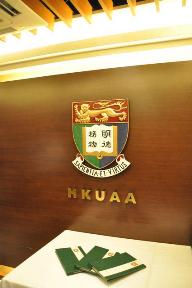 About Us

Established in the 1920s, Hong Kong University Alumni Association (HKUAA) is the longest standing alumni body of the University of Hong Kong. It has over 37,000 members and is linked to an extensive [overseas network] of HKUAA bodies worldwide.
HKUAA owns a very popular Clubhouse which is centrally located in Central near Lan Kwai Fong.
Vision

A sustainable and well managed university alumni entity which constantly seeks to provide value-added opportunities and services to its members whilst at the same time facilitate and enable alumni to develop and maintain

close linkages

with the University


respect and leadership position in the Community

a mutually beneficial and meaningful fellowship with members of the University staff and student and particularly other members of the alumni so that all alumni will be inculcated a sense of pride and ownership for being member of the Association.
Purpose

1. Establish and maintain an effective communication infrastructure among members
2. Cultivate a strong sense of belonging and ownership
Create value for members by utilizing to its full advantage the power of mass participation/purchase

Promote professional and personal development opportunities for the benefit of members (career planning, skill development, further study)

Enhance bonding and fellowship via social, cultural, educational, sports, scientific and special interests activities.

Contribute to HKU's vision to sustain its excellence and status as a pre-eminent international university in Asia and support its activities including fund raising and sponsorship programs

Encourage and facilitate members to contribute to the society as leaders and responsible citizens
Core Value

Wisdom
Integrity
Synergy
Equality
Respect

Culture
- Expand on HKU heritage
- Excel from harmony
- Prosper by synergy
- Thrive on mutual respect
- Blossom through transparency and fair play
- Flourish upon uncompromising ethics
- Comfort amidst peaceful enjoyment
Office Bearers for 2022-2023