News
***FULL***
21 Sep 2013
3D PRINTING SEMINAR
3D PRINTING SEMINAR
MAKER MOVEMENT & 3D PRINTING:
THE THIRD INDUSTRIAL REVOLUTION?
| | |
| --- | --- |
| Date | SEP 21, 2012 (SAT) |
| Time | 9:00pm - 10:30pm |
| Dress Code | Casual |
| Venue | HKUAA Clubhouse |
| Address | Room 101, 1/F., Yip Fung Building, 2 D'Aguilar Street, Central, HK |
| | - "NEAR LAN KWAI FONG" |
| Refreshments | Served with soft drinks |
| | |
| Fee | HK$60 |
| | (Free for HKUAA Life Members and their friends, with limited quota) |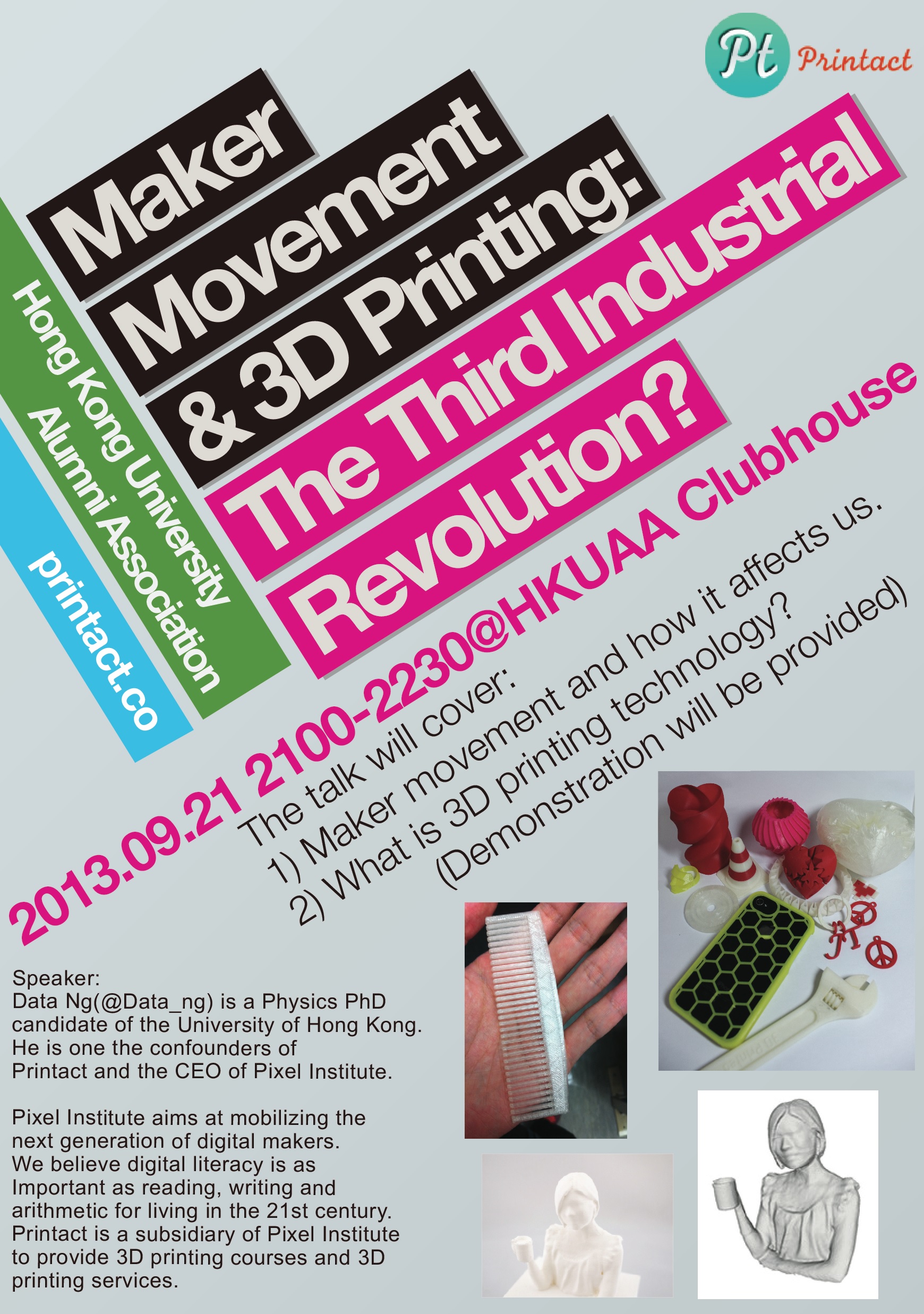 Highlights:
The maker movement has a similar trajectory to that of the personal computer revolution. The maker movement is known to the past generations as "DIY" (do-it-yourself), it encourages collaboration, invention, and radical participation with a single goal: to create new things. But it is far different from the old "DIY" way with the aid of 3D printing in 21st century.


The Economist pointed out that the maker movement and 3-D printing play an important role in the Third Industrial Revolution. They will not only transform manufacturing, but also the very way we conduct the totality of commercial life in the first half of the 21st Century.


Public awareness of 3D printing technology has arrived a tipping point in Hong Kong this year. However, this technology has been invented since the 1980's. So why is it just now coming into its own? What makes it so different now? And will 3D printing and the maker movement live up to the media predictions as the manufacturing revolution of the future?


In the first part of this talk, different components such as Hackerspace, Fablab, open-source software and hardware of this global maker movement will be covered. The democratization of making things will be focused.


In the second part of this talk, the history of human manufacturing to the present day will be briefly introduced. The common 3D printing techniques and material will be discussed.


The speaker will also explore some current and future uses, applications and legal implications of the technology. The landscape of the 3D printing industry today will be briefly covered.


Demonstration of 3D printing and 3D scanning will be provided in this talk.


Data Ng(@Data_ng) is a Physics PhD candidate of the University of Hong Kong. He is one the cofounders of Printact and the CEO of Pixel Institute.
Pixel Institute aims at mobilizing the next generation of digital makers. We believe digital literacy is as important as Reading, writing and arithmetic for living in the 21st century. Printact is a subsidiary of Pixel Institute to provide 3D printing courses and 3D printing services.


REMARKS
This event is FULL. Thanks for your support.
Terms and Notes
*You can make one lump sum payment if you enrol with your friend(s). Please advise the name(s) and personal information if do so.
*Please be noted that payment is non-refundable. We will charge you only if has place(s) for you. However, you will NOT be charged when the event is fill or/and no place(s) for you. We will advise whether you get place(s) in due course.
*You may visit our website before you enrol as we will update the places frequently. Please be noted that we will not responsible for any delay in the information.
*To comply with the insurance requirement, we will submit the participant's names (but will NOT submit contact) to the service provider. Please make sure you fill-in the name(s) with correct spelling. *Before joining the event, you may consult any professional person for the suitability and risks. During the event, please follow all rules and instructions strictly made by HKUAA or the service provider. HKUAA will not liable for any damage, injury or death that may be caused.
*All HKU Alumni, HKU Students and their personal friends are welcomed to join this event.
HKUAA reserves all rights to make ultimate decision on all related issues.
If you have not yet registered as a HKUAA Member, please do so at our website, FREE membership for all HKU alumni and students.
(*Note: All HKU Alumni are eligible to join, but you NEED to fill in an online application form and submit it for approval by HKUAA. Membership is NOT granted automatically upon graduation.)
********************************************************************************
Please join the official group "Hong Kong University Alumni Association" in facebook if you haven't made it.
www.facebook.com/groups/hkualumni

Enquiries please email youngalumni@hkuaa.org.hk or call Ms May Wong, HKUAA Associate Manager @ +852 2522-6113.
by HKUAA SMG
- the LEGEND & PROFESSIONAL