News
[HKUAA Fine Wine Club] Wine Dinner on Jan 29 Thur
Wine Dinner on January 29 Thursday at HKUAA
Dear HKUAA members,
A belated New Year Greeting to you all from the Fine Wine Club ! In addition to good health and happiness, drink more red wine which has many health benefits !
Our first Wine Dinner will be held towards the end of this month. And as usual, I have sourced some goodies which I hope will please you all. We shall serve a total of five wines to each table of 12 and they are all high score Bordeaux red :
1. 2005 La Lagune, Haut Medoc. RP 95, Decanter 18.5
2. 2008 Duhart-Milon-Rothschild, Pauillac 4th Growth, RP 94
3. 2009 Brane-Cantenac, Margaux, RP 95, Decanter 18
4. 2010 Gloria, St Julien, RP 93, JR 17
5. 2010 Clerc Milon, Pauillac 5th Growth, RP 94, JR 17, Decanter 18, JS 95/96
I have tried them and I like them all.
The charge per person is $800 and Fine Wine Club members get a 10% discount. There is still time to sign up as members of the Club and there will be at least another wine dinner, if not more, this year. To know more about the Fine Wine Club Membership 2015, please visit http://www.hkuaa.org.hk/NewsDetail.asp?uid=502. You must hurry because we are limited to only three tables of 12. DEADLINE for registration will be on JAN 23, 2015..


For registration or enquiries, please contact HKUAA Administration staff Ms. Sharon Lam at 2522 6113 or email to sharon.lam@hkuaa.org.hk.
Please see the food menu below for your kind reference.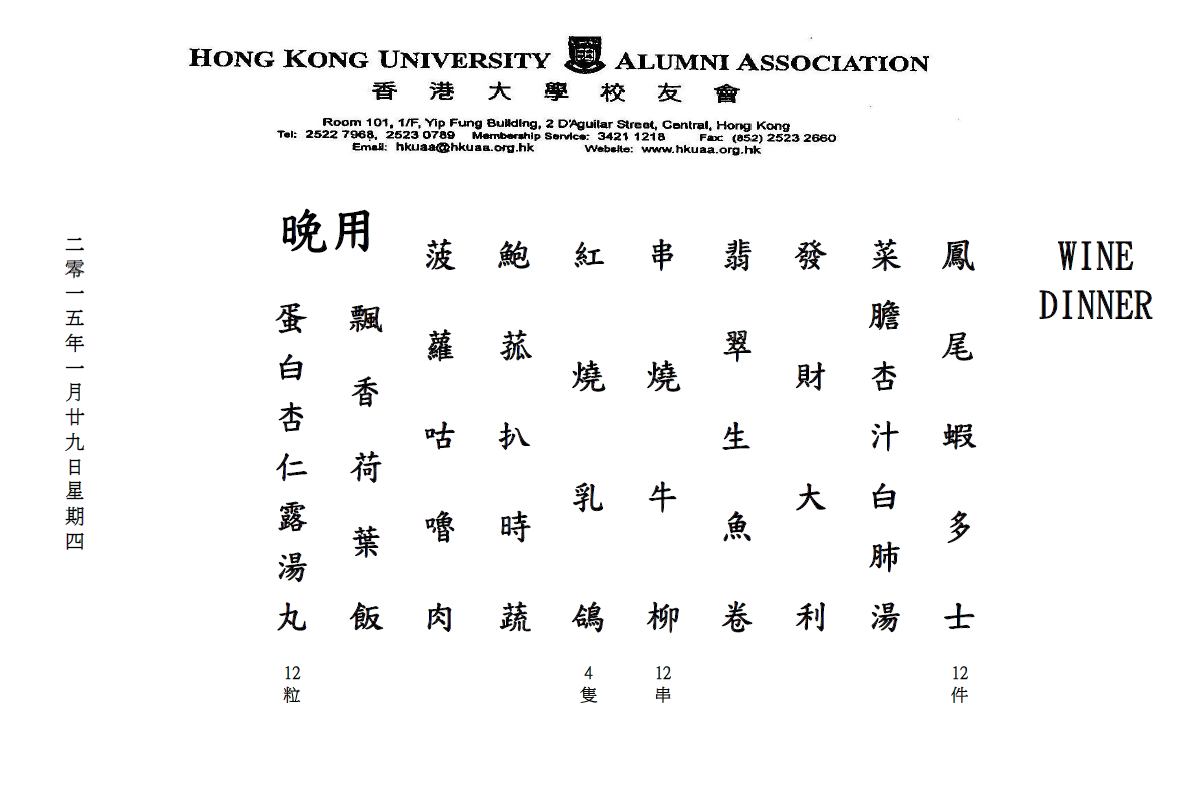 Cheers,
Tommy Ling
Chairman, Fine Wine Club