News
23 Mar 2017
[FULL]Guided Tour to L'Arche de Noe racontee par Van Cleef & Arpels
HKUAA GREEN AND CULTURE GROUP
Guided Tour to L'Arche de Noe racontee par Van Cleef & Arpels - an Installation by theatre artist Robert Wilson
A private cocktail session for HKU alumni
| | |
| --- | --- |
| Date | March 23, 2017 (Thur) |
| Time | 7:00 p.m. - 8:00 p.m. |
| Venue | Asia Society Hong Kong Center, 9 Justice Drive, Admiralty, Hong Kong. |
| Language | Cantonese |
| Fee | FREE (limited seats on first-come-first-served basis, no walk-ins) |
| Registration | http://www.hkuaa.org.hk/EventReg.asp?uid=902 |

Summary:
Inspired by the legendary tale of Noah's Ark, L'Arche de Noe racontee par Van Cleef & Arpels will showcase an immersive Installation by highly-acclaimed theatre and visual artist, Robert Wilson. The Installation re-imagines a mythical adventure across the seas while highlighting over 40 couples of high jewelry creations that celebrate the animal kingdom's diverse beauty, including mischievous monkeys, bounding kangaroos, galloping horses and exotic birds ready to take flight.

An exclusive guided tour for members of Hong Kong University Alumni Association.


Welcome to bring your family and friends to join.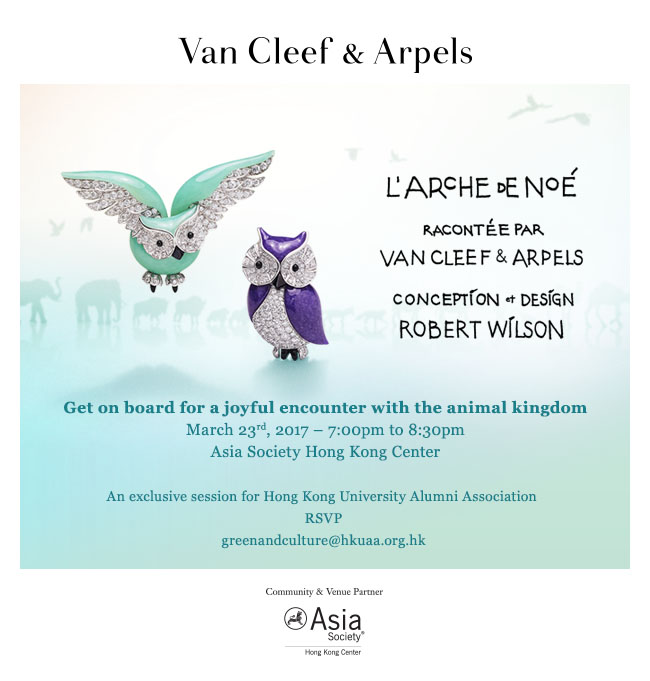 *The above pictures are extracted from Van Cleef & Arpels.

**TIPS**
ALL of our past events were FULLY BOOKED in advance. Please make your reservation RIGHT NOW!!!
Enquiries: Please email to greenandculture@hkuaa.org.hk (Attn: Ms. Natalie Wong / Mr. Brian Hui) or call Ms. Natalie Wong, HKUAA Administration, at +852 2522-6113.


*RESERVATION*

Please register through this link:
http://www.hkuaa.org.hk/EventReg.asp?uid=902

Always cannot catch up with the registration because it is full quickly? Let's join the Facebook Group of HKUAA Green and Culture Group to get our most updated information:
https://www.facebook.com/groups/greenandculture

Terms and Notes
All HKU Alumni, HKU Students and their personal friends are welcome to join this event. You can make one lump sum payment if you enroll with your friend(s). Please advise the name(s), email and mobile phone number.

Please note that payment is non-refundable. We will charge you only if has place(s) for you. However, you will NOT be charged when the event is fill or/and no place(s) for you. We will advise whether you get place(s) in due course.

You may visit our website before you enroll as we will update the event information frequently. Please note that we will not be responsible for any delay in the information.
During the event, please follow all rules and instructions strictly made by HKUAA or the service provider. Please act responsibly and HKUAA will not be liable for any damage, injury or any serious consequences that may be caused.
HKUAA reserves all the rights to make final decision on all related issues.
*********************************************************************
If you have not yet registered as a HKUAA Member, please do so at our website, FREE membership for all HKU alumni and students.

(*Note: All HKU Alumni are eligible to join, but you NEED to fill in an online application form and submit it for approval by HKUAA. Membership is NOT granted automatically upon graduation.)