News
25 Aug
Hungarian Wine Pairing Dinner - 25 August Friday at HKUAA
Hungarian Wine Pairing Dinner - 25 August Friday at HKUAA
This is a unique opportunity to sample some fine Hungarian wines including both white, red and a rose, for the simple reason that you don't get wines from Hungary very often locally or in fact most parts of the world. Well, you don't know what you are missing until you try them ! I did a while ago at the courtesy of our sponsor, Mr. Ho of Wiseville which specialize in Hungarian wines. And it was a real discovery! I dare say some of them compared favourably with fine Bordeaux and Italian! What is more, Mr. Ho has carefully paired the wines with our Chinese cuisine including the specially prepared ox tongue for the Wine Dinner. So please hurry up and register!
Introduction to Hungarian Wines


Hungary may be home to the world's oldest classification wine system, which dates back to 1772 in Tokaj, but its time is very much coming now. These are exciting times for Hungarian wine, which after more than 20 years has shaken off the damage inflicted by 40 years of post-war communist collectivization, to emerge stronger than ever.


Hungary has transformed grapes like Olaszrizling and Kékfrankos, its most widely planted grapes in the white and blue grape categories respectively, from the mass-production grapes of the communist era into national treasures. Kadarka, which was effectively wiped out in the former regime due to its labour intense nature, is experiencing a revival. It gives Szekszárd's Bikavér blends its unique and spicy character.


Details of the event:
Date: 25 August, Friday 2017 at 7:30

Venue: HKUAA (1/F, Yip Fung Building, 2 D'Aguilar Street, Central)
Cost: $410 per head for members and guests. 10% discount for Fine Wine Club members.
Menu and Wines:
Welcome Drink: Hungaria Rose Extra Dry (sparkling wine)
A Hungarian sparkling Rose made by tradition method (méthode traditionelle), with significant touch of soft and attractive tannins, gives you a full mouthful of freshness and vivacity. An impressing welcome drink.


1. 瑤柱節瓜甫及鷓鴣羹
KONYARI LOLIENCE WHITE 2014
An aromatic white wine with intense flowery and fruity touches. The after taste is complex,
refreshing and long. A good white matches well with seafood and poultry dishes


2. 西蘭花炒龍躉球
SZENT TAMAS TOKAJI MAD FURMINT 2013
A dry Tokaji Furmint with typical characters of the variety. In the mouth, the tastes of
Honeydew melon, apricot, almond and notes of minerals will soon be sensed.


3. 古法鹽焗雞
TAKLER SZEKSZARDI KEKFRANKOS RESERVE 2007
Kekfrankos is a typical native grape of Hungary. Its pleasing tannin can match well with a
wide range of dishes. This quality wine is a well balanced, full body wine with high ageing
ability.


4. 紅蘿蔔炆牛尾
BOCK VILLANYI CABINET SAUVIGNON JAMMERTAL SELECTION 2009
A wine of exceptional flavor-richness, complexity and potential for ageing over decades,
with fine tannins and elegant touches of wood and vivid fruity notes. The finish will give you
a real surprise from a Hungarian red.


5. 芝蔴煎堆仔
DERESZLA TOKAJI ASZU 5 PUTTONYOS 2007
A distinctive sweet wine in light golden colour, with clear touches of apricot, dry mango,
almond and a light hint of dry coconut. A wine you will not forget after tasting.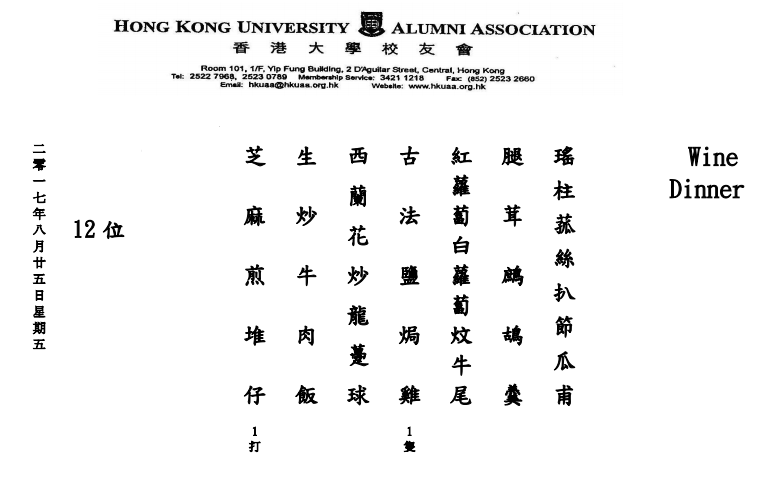 Reservation and Payment Method:

1. Please complete the form in below with payment and email to Ms. Natalie Wong at natalie.wong@hkuaa.hk ON or BEFORE 22nd August, 2017. If you enroll together with your friend(s), please copy the form twice and complete it for your friend(s) as well.

***Enrolment Form ***
Full Name:
Gender:
HKUAA Membership No.:
Phone:
Email:

2. After filling out the form, please pay

[1] by DEPOSIT to our HSBC account:
Account Name: Hong Kong University Alumni Association
Account No.: 808-5-000324

OR

[2] By CHEQUE to "HKUAA"
Please send to the cheque to Room 101, 1/F, Yip Fung Building,
2 D'Aguilar Street, Central, Hong Kong.
The bearer of the cheque should be "HKUAA". Please write your name
and contact number at the back of the cheque.

3. Send us your SCANNED RECEIPT at natalie.wong@hkuaa.hk with your FULL NAME. Kindly note that places will only be reserved for members who have paid and send us the email.

4. A confirmation email will be sent after we have confirmed your payment.

Deadline of reservation: 22nd August, 2017 (Tuesday)