Events
Countries in Pictures – Travel Talk Series- EASTER ISLAND by Mr. Vincent WONG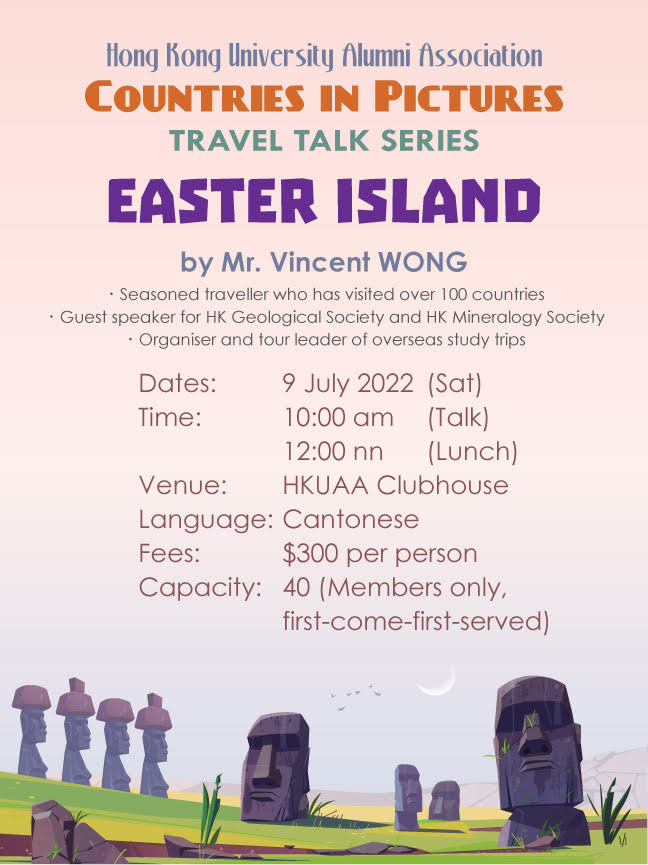 Countries in Pictures – Travel Talk Series
Traveling to world's ancient countries through talks and rich collections of pictures
EASTER ISLAND by Mr. Vincent WONG
Easter Island has always be shrouded in mystery. With a remarkable geological history worth studying, it is also one of the most remote location in the world, making it the final destination for Homo sapiens' eastward migration. How the people managed to get there and settled 1000 years ago is astonishing. They then successfully built a sophisticated society and erected many huge statutes that fascinate visitors even today. However the island became almost completely barren and uninhabitable when it was being "discovered" by the Europeans in 1722! This presentation will try to explain what had likely happened and the lesson we as contemporary human beings should learn from it.
Testimonials from participants of previous travel talks and study tours led by Vincent:
"I have learnt a lot on this subject!"
"Very comprehensive indeed. Thanks!"
"Very useful guide for my future trip!"
"Now what I have seen makes much more sense. Thank you!"
About the Speaker
Mr. Vincent WONG
‧ Graduated from HKU in physical Geography 1971
‧ MD Jardine Transport Services Group 1971-2000
‧ MD Kerry Logistics Group 2000-2009
‧ Fellow Chartered Institute of Transport and Logistics
‧ Fellow Chartered Institute of Shipbrokers
‧ Lecturing Logistics as Adjunct Associate Professor at CUHK and Professor of Practice at PolyU.
‧ Visited over 100 countries including Antarctica, Iraq, Iran, Jordan, Georgia, Armenia, Azerbaijan, Madagascar, Namibia, Botswana, Ethiopia, Iceland, Mexico, Galapagos, Mauritius, Easter Island, Chile, Ecuador, Canary Island, Azores Island plus many places in China such as Inner Mongolia and Qinghai. Acted as organiser and tour leader in many trips.
‧ Give talks regularly to members of the HK Geological Society and HK Mineralogy Society.
Registration
Please complete and submit the form below on or before 4 July 2022:
Full Name (Mr./Ms./Mrs./Dr./Prof.):
Mobile Phone No.:
Email Address:
HKUAA Membership No.:
No. of Seats:
After filling out the form, please make payment by PayMe
https://qr.payme.hsbc.com.hk/2/HhUZiLdnF1qYxJAEK9tx85

P.S. fill the event date and participant name in PayMe message.
After making the payment, please scan and attach the receipt and email it together with the completed form to Mr. Thomas LEUNG at thomas.leung@hkuaa.hk.
You will receive a confirmation once we have successfully received your payment.
Terms and Notes
Please note that payment is non-refundable. We will charge you only if we have reserved seat(s) for you. You will NOT be charged when the event is full. We will advise whether you get your seat(s) in due course.
You may visit our website before you enroll as we update the number of seats regularly. Please note that we will not be responsible for any delay in information.
If you have not yet registered as a HKUAA Member, please do so through our website. It is FREE for all HKU alumni, HKU students, HKU staff and Members of HKU Foundation.
During the event, please follow all the rules and instructions made by HKUAA or the service provider. HKUAA will not be liable for any damage, injury or serious consequence that may be caused.
HKUAA reserves all rights to make the ultimate decision on all related issues.
For enquiries, please contact Mr. Thomas LEUNG at thomas.leung@hkuaa.hk or on 2522 6113.