Events
***FULL***
Prominent Alumni Seminar
by Young Alumni Group
Prominent Alumni Seminar
New Graduates Welcome Party
| | |
| --- | --- |
| Date | 10 Sep 2016 (Sat) |
| Time | 3:00pm - 5:00pm |
| Venue | HKUAA Clubhouse |
| Address | 1/F, Yip Fung Building, 2 D'Aguilar Street, Central, HK |
| Highlights | The Future + Happy Hour Session |
| Participants | HKU Young Alumni and HKU Students |
| Fee | Free |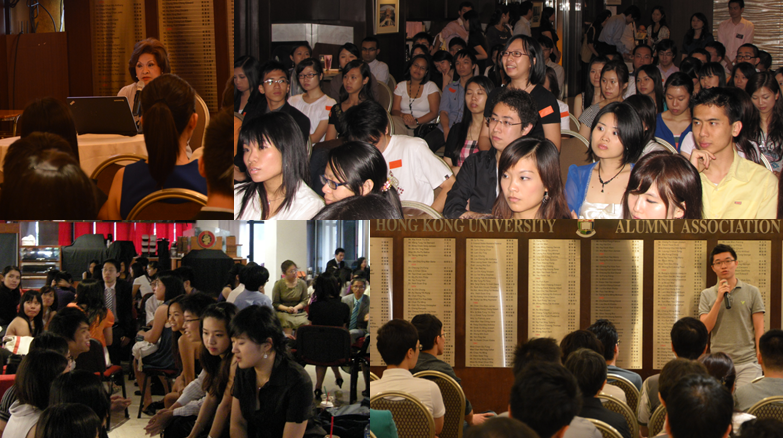 Guests
Dr. John Chan Cho Chak (陳祖澤), GBS, CBE, LVO, JP, is a Hong Kong civil servant and executive. He graduated in HKU with Bachelor of Arts in 1964. He was Managing Director of The Kowloon Motor Bus Company (1933) Limited and Chairman of The Hong Kong Jockey Club. He currently serves as Chairman of the Court of The Hong Kong University of Science and Technology, a non-executive director of Transport International Holdings Limited, The Kowloon Motor Bus Company (1933) Limited, Long Win Bus Company Limited, RoadShow Holdings Limited, Hang Seng Bank Limited, Guangdong Investment Limited and Swire Properties Limited.

Mr. Douglas So (

蘇彰德)

is current HKU Vice-President and Pro-Vice-Chancellor (Institutional Advancement). He obtained his Bachelor of Laws (LL.B.) and Postgraduate Certificate in Laws (PCLL) from The University of Hong Kong ("HKU") in 1990 and 1991, respectively. After graduating from HKU, Douglas joined the international law firm, Baker & McKenzie. Afterwards, he was the Company Secretary of HKJC.
Douglas is keen to serve the community. He is the Secretary and a Council Member of UNICEF HK; a Board Member of HK Cyberport Management Company Limited and the HK Community Chest; a Trustee of the HK Philharmonic Society Limited; a Member of the Hospital Governing Committee of the Duchess of Kent Children's Hospital; a Member of the History Museum Advisory Panel; amongst others.
This event is FULL with ~100 participants. Thanks for your support.
Terms and Notes
*We will advise whether you get place(s) in due course.
*You may visit our website before you enrol as we will update the places frequently. Please be noted that we will not responsible for any delay in the information.
*To comply with the insurance requirement, we will submit the participant's names (but will NOT submit contact) to the service provider. Please make sure you fill-in the name(s) with correct spelling. *Before joining the event, you may consult any professional person for the suitability and risks. During the event, please follow all rules and instructions strictly made by HKUAA or the service provider. HKUAA will not liable for any damage, injury or death that may be caused.
*All HKU Alumni, HKU Students and their personal friends are welcomed to join this event.
HKUAA reserves all rights to make ultimate decision on all related issues.
If you have not yet registered as a HKUAA Member, please do so at our website, FREE membership for all HKU alumni and students.
(*Note: All HKU Alumni are eligible to join, but you NEED to fill in an online application form and submit it for approval by HKUAA. Membership is NOT granted automatically upon graduation.)
********************************************************************************
Please join the official group "Hong Kong University Alumni Association" in facebook if you haven't made it. www.facebook.com/groups/hkualumni .

For enquiries please email youngalumni@hkuaa.org.hk or call us at +852 2522-6113.
by HKUAA Young Alumni Group
- the LEGEND & PROFESSIONAL