News
***FULL***
31 Aug 2013
YOUNG ALUMNI BOATING DAY
YOUNG ALUMNI
BOATING DAY
- ENCORE
Summer Delight II - Join us to make new friends
Date

Aug 31, 2013 (SAT)

Time

10:00am - 6:00pm

Dress Code

Casual / Sportswear / Swimwear

Boarding/Dismissal

Central Pier No.9

Venue

Sai Kung Sea

Refreshment

Lunch on the Boat, Drinks & Snacks
Hightlights

Games on the Boat;
Wakeboard / Banana Boat

 

Fee

HK$450 each for 1 person

HK$430

each for 2 or more persons enroll together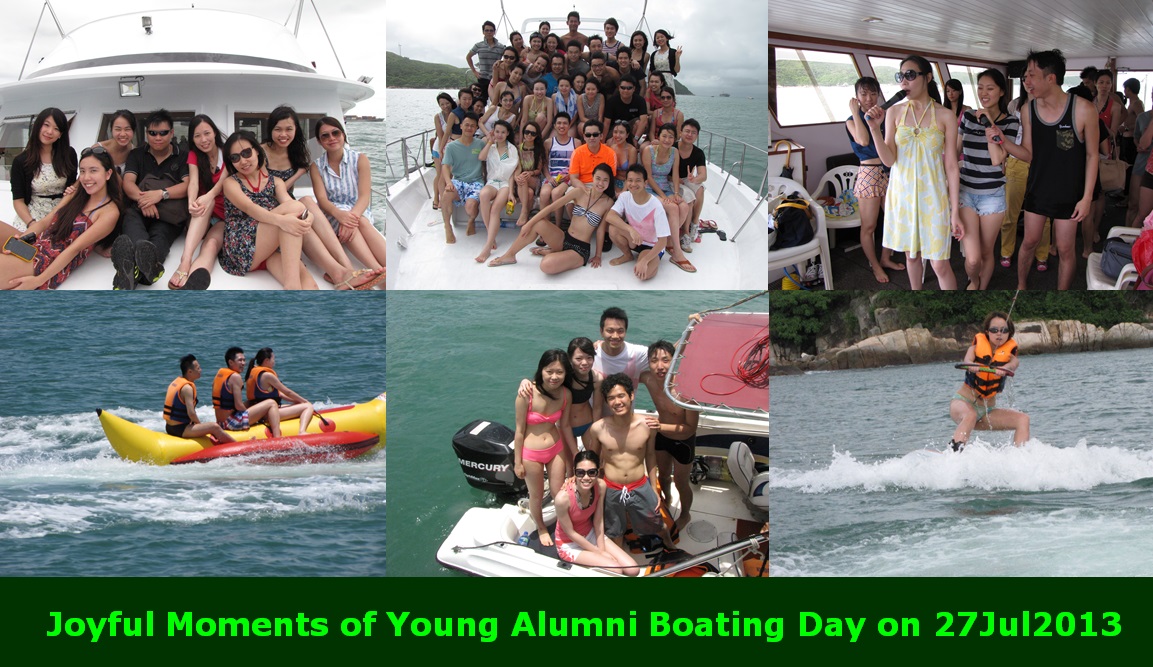 Note:
For the boat trip on 27Jul2013, most of the participants didn't know each other before on-board. As the boat trip was full of enjoyment, during the boat trip, many particpants were friends with each other and have held some re-union gatherings afterwards.

So don't miss this good chance to make friends!!!
REMARKS
THIS EVENT IS FULL. THANKS FOR YOUR SUPPORT.


For you information
*We will provide the contact numbers of our committee members for successful applicants before the event day.
*Standard insuracne included with maximum of HK$100,000 for life accidental coverage and medical accidental coverage of HK$1000.
*No insured person should swim alone.
*Since this event may involve risks, it is not recommended for individual who is under 18 or over 60 years old to join.
*NO WALK-IN


*WAITING LIST RESERVATION*
Please complete the form in below and email us at youngalumni@hkuaa.org.hk
[incomplete information may not be entertained]:-
++++++++++++++++++++++++++++++++++++++++++++++++++++++++++++++++++
***Waiting List Enrolment Form for Young Alumni Boating Day - Encore***
Name in Full (Same as HKID Card):
Gender:
HKU Degree / Programme:
Year of Graduation:
HKUAA Membership No / HKU University No:
Phone:
Email:
**Either Play Wakeboard, Banana Boat or Don't Play:

**For insurance purposes, please provide your friend(s)' FULL Name(s) and Contact(s) as above if you are enrolling for him/her/them. Otherwise, your friend(s) may not be insured.

**Anyone can choose whether to play either wakeboard / banana boat, or just stay on the boat and play games.
++++++++++++++++++++++++++++++++++++++++++++++++++++++++++++++++++
Terms and Notes
*You can make one lump sum payment if you enrol with your friend(s). Please advise the name(s) and personal information if do so.
*Please be noted that payment is non-refundable. We will charge you only if has place(s) for you. However, you will NOT be charged when the event is fill or/and no place(s) for you. We will advise whether you get place(s) in due course.
*You may visit our website before you enrol as we will update the places frequently. Please be noted that we will not responsible for any delay in the information.
*Before joining the event, you may consult any professional person for the suitability and risks. During the event, please follow all rules and instructions strictly made by HKUAA or the service provider.
*HKUAA shall not be liable for any damage, injury or death that may be caused.
*All HKU Alumni, HKU Students and their personal friends are welcomed to join this event.
*To comply with certain requirements, we may submit the participant's names (but will NOT submit contact) to the service provider. Please make sure you fill-in the name(s) with correct spelling.

HKUAA reserves all rights to make ultimate decision on all related issues.
If you have not yet registered as a HKUAA Member, please do so at our website, FREE membership for all HKU alumni and students.
(*Note: All HKU Alumni are eligible to join, but you NEED to fill in an online application form and submit it for approval by HKUAA. Membership is NOT granted automatically upon graduation.)
********************************************************************************
Please join the official group "Hong Kong University Alumni Association" in Facebook if you have not yet done so. www.facebook.com/groups/hkualumni
For enquiries please email youngalumni@hkuaa.org.hk or call Ms May Wong, HKUAA Associate Manager at +852 2522-6113.
by HKUAA Young Alumni Group
- the LEGEND & PROFESSIONAL