News
2nd Fine Wine Dinner (FULL)
Thank you for your support! The event is full. Hope to see you in our future events!


Dear Fine Wine Club member,
2nd Wine Dinner
Date : Thursday, 28 May, 2015
Time : 7:30 pm
Venue : HKUAA premises
Cost : $800 per person (10% discount for Fine Wine Club members and 5% discount for Life Members)
Organiser : AA Bar Committee
Maximum Capacity : 12 x 4 = 48 persons
Highlights !
* As I intimated in the last wine dinner few months ago, there will be a RP 98+ scored Bordeaux red ! This is the 2010 2nd Growth Leoville-Poyferre which also has a Jancis Robinson score of 17+ ! While most premium 2010 Bordeaux red are not yet drinkable, this luscious and vibrant beauty is drinkable since 2013 !
Ÿ There will be another four high scored Bordeaux red :
2006 Pape Clement RP 95
2006 Montrose. RP 94+
2011 Smith Haut Lafitte. RP 94+
2010 Monbousquet. RP 93
* To start the evening, you will get to taste a 'Riesling' like Spanish white which is quite a pleasant summer drink.
* A very limited number of the wines will be available for purchase at cost plus a small handling charge.
* The usual gourmet Cantonese dishes will served.

Dinner menu: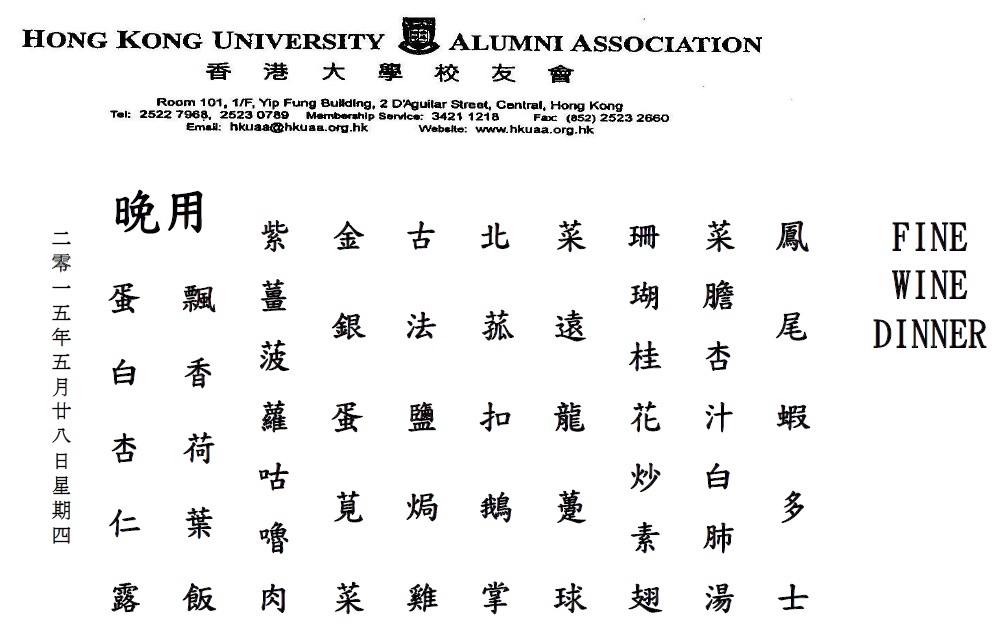 Despite increase in costs, we have not increased our charge this time ! Comparing with other wine dinners in town, I dare say ours is by far of the best value ! So please sign up early !
Tommy Ling
Chairman, AA Bar Comittee