Events
FULL - Wine Tasting and Get-together May 2023
by Professional Alumni Group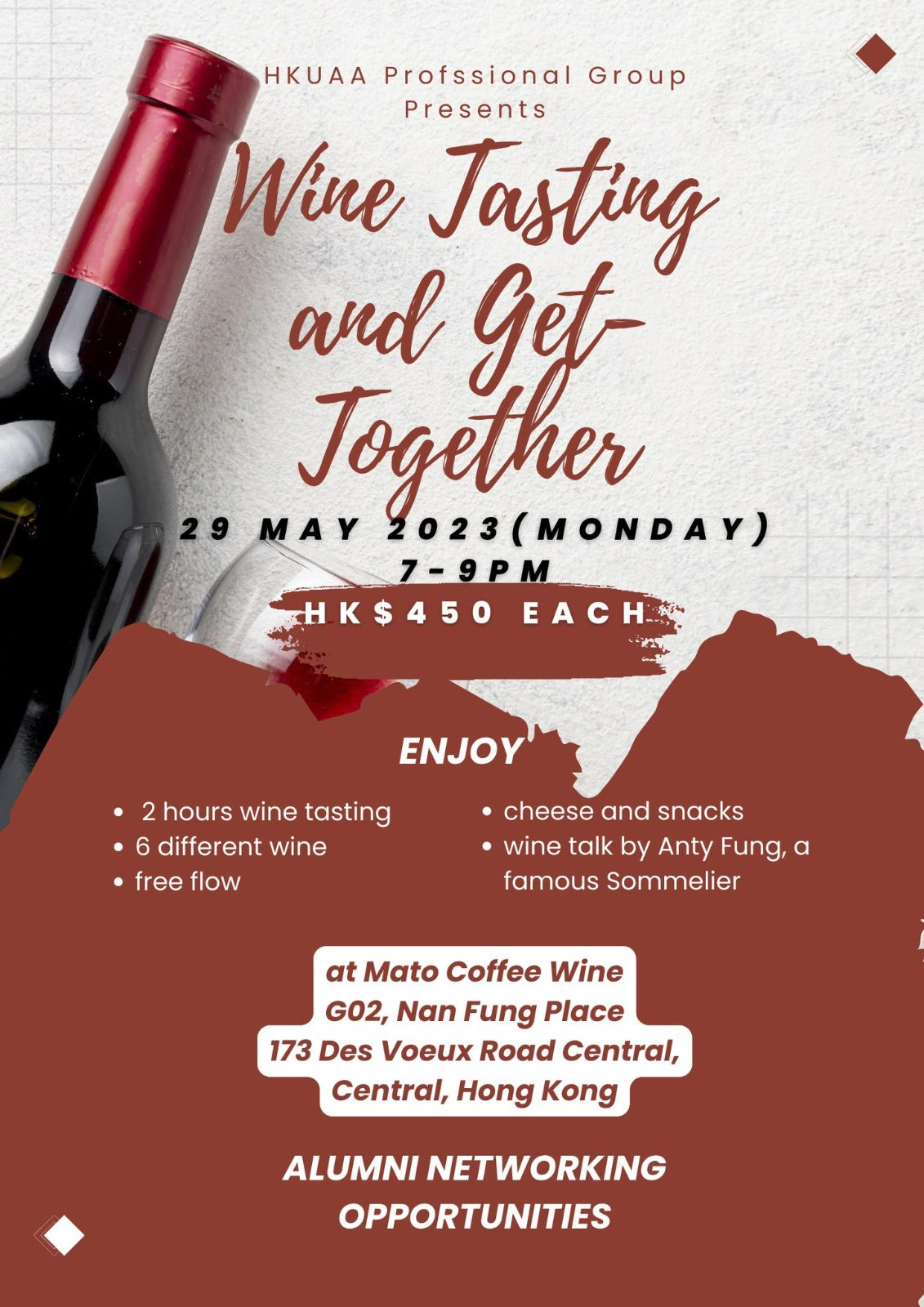 Date: 29 May 2023 (Monday)
Time: 7-9pm
Fee: HK$450 each

Profile of Speaker:
Miss Anty Fung
BBA(Law) (HKU)

Hong Kong-born Anty Fung is a seasoned wine professional with 10+ years experience spanning wine education, wine judging, wine speaking, cellar storage and Food & Beverage management. She is one of the cofounders of mato coffee wine, an innovative wine izakaya concept with a strong varietal focus on coffee and wine. She is General Manager of Hip Cellar and AnOther Place, Hong Kong's premier professional wine storage solution and award-winning dining concept known for specialized wine events. She is also on the team of award-winning wine trading platform WineWorld Xplorer, where she oversees investable wine research, wine listings and contents development. Anty is Teaching Consultant at MWM Wine School by Debra Meiburg, where she regularly delivers WSET courses and workshops. She also judges at international and local wine competitions and speaks at various trade fairs and private events. Anty is known for her inclusive, creative style of presentation and delivery. She is a holder of Harvard University's Higher Education Teaching Certificate, as well as various wine and coffee certifications. When not sipping and talking about wines, you will find Anty in ultramarathon events worldwide.





Registration

THIS EVENT IS FULL NOW



Terms and Notes

Please note that payment is non-refundable. We will charge you only if we have reserved seat(s) for you. You will NOT be charged when the event is full. We will advise whether you get your seat(s) in due course.

If you have not yet registered as a HKUAA Member, please do so through our website. It is FREE for all HKU alumni, HKU students, HKU staff and Members of HKU Foundation.

During the event, please follow all the rules and instructions made by HKUAA or the service provider. HKUAA will not be liable for any damage, injury or serious consequence that may be caused.

HKUAA reserves all rights to make the ultimate decision on all related issues.

For enquiries, please contact Mr. Thomas LEUNG at thomas.leung@hkuaa.hk or on 2522 6113.